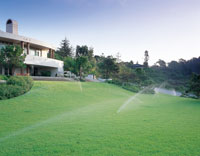 Now only water once a week (through March 2) until daylight savings time begins. We would suggest 20-30 minutes per rotor zone/ 10-15 minutes per mist zone.
Also remember you are able to water within 24 hrs. of any lawn application of fertilizer or pest control.
Any new landscape areas are able to water everyday for the first 30 days.
March 3rd Through November 2nd
Odd Address: Wed/Sat
Even Address: Thurs/Sun

November 3rd Through March 2nd
Odd Address: Sat. only
Even Address: Sun. only